As of 2019, Oak Bay has won a total of 84 provincial titles in all school sports. This surely positions Oak Bay High as one of the most, if not the most, decorated schools in the province.
Builders
These wonderful people have greatly contributed to Oak Bay's Athletic Program.
If you would like to nominate someone to the Hall of Fame, please use this form, and let us know!
Oak Bay High School Alumni Sports Hall of Fame 2020 Inductees
Click on each plaque to view a full page profile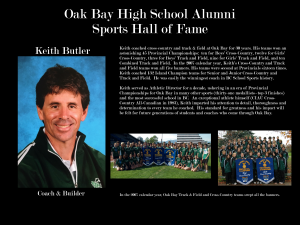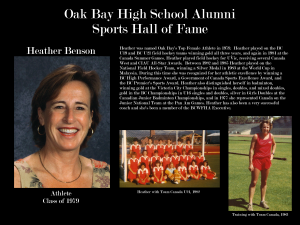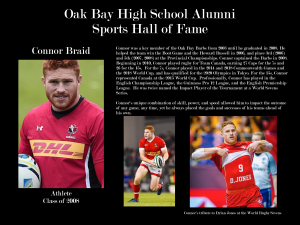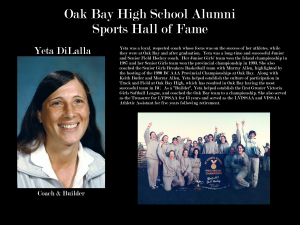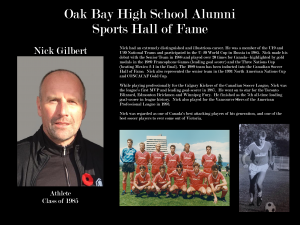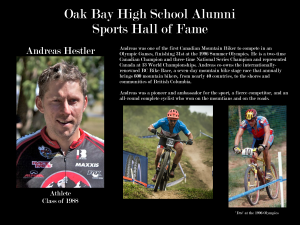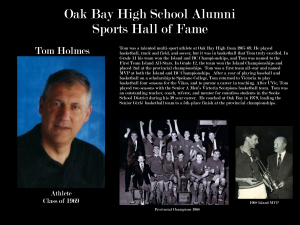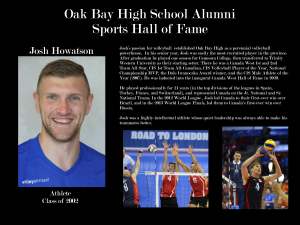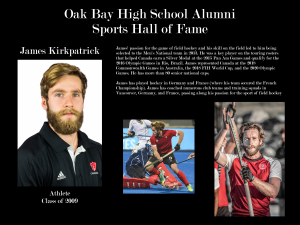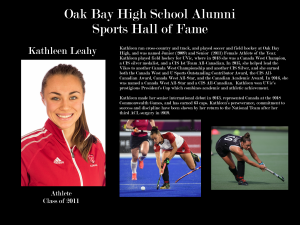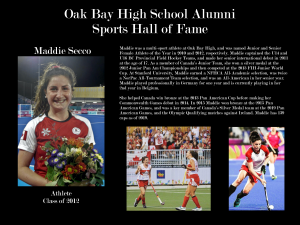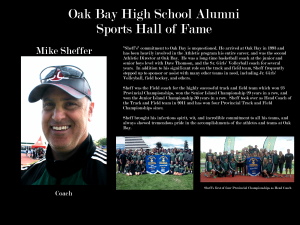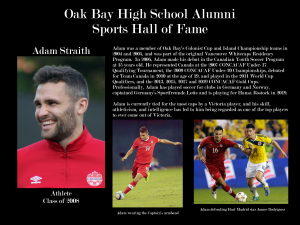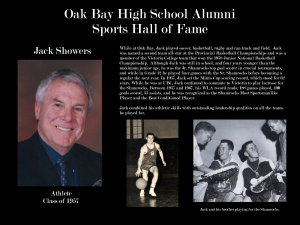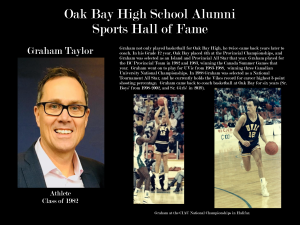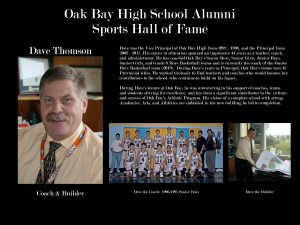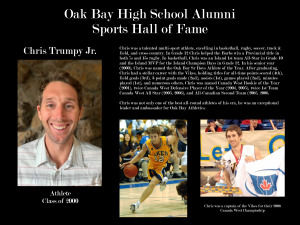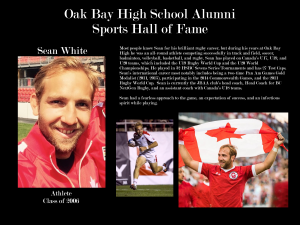 Jack Wallace
Jack was Principal of Oak Bay Secondary from 1963-1970. Jack was a tremendous supporter of all student activities. His interest in athletics was remarkable. Jack attended most games and travelled with the teams to exhibition and championship tournaments. He was instrumental in adding new facilities to the original building including the gymnasium and the original cinder track which now bears his name.
Don Oliver
Don graduated from Oak Bay, taught at Oak Bay and was vice principal at Oak Bay under Jack Wallace. His three children graduated from Oak Bay. It would be difficult to find an individual who is more "Green and White" than Don Oliver. He and Jack Wallace attended most games and traveled with teams on a regular basis. Don was also involved in the addition of the new school facilities like the gym and track. In addition, Don coached the boys rugby team that won 12 Howard Russell titles between 1949 and 1962.
Dave Dunnet
Generations of Oak Bay students know the Oak Bay fight song because of Dave's thirty six year commitment to Oak Bay as both a student (Class of '58) and a teacher. The Pep Band was a fixture at Oak Bay home games. His energy and enthusiasm for sport made him a legend around the province. Clearly, Dave helped build the tradition of excellence at Oak Bay. Dave is now a senior instructor in the University of Victoria's school of music.

Court Brousson
Photo not availlable
The Jack Wallace Track along with initiating the Sport Recognition Wall in the east gym may be the most tangible legacies of Court's 10 years as Principal of Oak Bay High, however it's widely recognized that through his foresight and active involvement in the school's athletic program, Oak Bay regained its prominence as a powerhouse in local and provincial sports. Court never failed to recognize the efforts of his coaches, he placed great value in the position of Athletic Director, he established a financial legacy for teams to draw on for many years to come, but perhaps most of all, he created a culture in which all sports, both male and female, were given equal recognition.
Coaches
Gary Taylor
Gary built the Bays basketball tradition at Oak Bay. His teams won Island championships in 1961, 1965, 1966, 1967, 1968 and 1969, placed second at the provincial championships in 1966 and 1969 and won provincial titles in 1965 and 1968. Gary also coached very successful swimming and track and field teams at Oak Bay. Gary later became a very popular Principal at Lambrick Park Secondary.
Don Horwood
Don coached the Bays basketball team from 1969 to 1978. His teams appeared in the Provincial championship final game five straight times between 1973 and 1978, winning three provincial titles in 1973, 1974 and 1977. Don went on to become the head coach at the University of Alberta where he has been named CIS coach of the year three times and has coached Alberta to 10 appearances in the CIS Final Eight championship in Halifax.
Gill Hawkins
Gill coached field hockey at Oak Bay from 1969-1978. Her teams won several Island titles and went to the BC Championships each year winning twice in 1970 and 1975. Oak Bay never lost a Bridgeman Cup final with Gill as coach. She also coached track and field and badminton at Oak Bay. Gill has also been a very successful coach at Central Junior and Victoria High
Athletes
Bob Burrows
Most Valuable player awards followed Bob throughout his storied athletic career beginning with Oak Bay High's 1965 victory at the BC High School Basketball Tournament. From there he collected MVP honors in both baseball and basketball at junior college before being recruited by Seattle State University with a duel sport scholarship. Burrows played basketball for team Canada at the 1967 Pan Am Games and then turned down a Seattle Super Sonics NBA draft in favor of a professional baseball contract with the Kansas City association. Tremendous success followed with the Victoria Bates softball club in the 1970's. Bob was named Victoria Male Athlete of the Year in 1974 and has since been inducted into the Canadian and BC softball Halls of Fame.
Bob Wheaton
Bob led the Oak Bay swim team to back to back BC championships in 1956 and 1957. In 1959 he won the Sid Thomas Memorial award as Victoria's outstanding amateur athlete. Bob retired after competing in the 1960 Rome Olympic Games having established more than 30 BC and Canadian backstroke, butterfly, medley and relay event swimming records. Bob is a member of the Greater Victoria Sports Hall of Fame.
Shelley Andrews ( nee Winter )
Shelley is considered one of the greatest Canadian women's field hockey players of all time. She played for Canada over 100 times, anchoring the defense and helped turn Canada into a field hockey power in the 1980's. Shelley was selected female athlete of the year for Oak Bay High in 1971, UBC female athlete of the year in 1987 and Greater Victoria Female Athlete of the Year in 1987. Shelley co-captained Canada to the silver medal at the 1983 World Cup, to the bronze medal at the 1986 World Cup and to fifth place at the 1984 Los Angeles Summer Olympics.
Alison Daysmith and Judy Humber

Alison and Judy were the dominant Canadian female badminton stars of their era. Each won the Canadian singles title and represented Canada at the Uber Cup world championships and Commonwealth Games. The two stars were great friends starting at Monterey Elementary School through Oak Bay High School and then through their international badminton years. Daysmith was three-time Canadian singles champion. Humber was the Canadian singles champion once, Canadian doubles champion once and Canadian mixed champion once.
Bob Hutchison
Bob played soccer, rugby and track and field at Oak Bay. His rugby teams, which he captained in grade 12, won Howard Russell titles three years in a row. Bob also played on the senior Wanderers teams that won BC championships. After winning the BC High School 100m title in 1949, Bob continued competing in track and in 1952 represented Canada at the 1952 Olympic Games. In 1953 he attended the University of Washington on a track and field scholarship.
Dave Morgan
Dave was a basketball standout at Oak Bay under coach Gary Taylor. The Bays were Island Champions in 1967-68 and won the Provincial Championship in 1968. Dave was named MVP in both the Island and BC tournaments that year. In 1970, he played on the Victoria team that won the Canadian Baseball Championship. In 1972-73 Dave won a duel sport scholarship to play basketball and baseball at George Fox college. Dave also had a major league baseball tryout with the San Francisco Giants organization.
Alan Wright
Alan graduated from Oak Bay in 1941 and excelled in many sports at Oak Bay. Alan played for the Victoria Dominoes basketball team that won the Canadian basketball championship in 1941-42. After serving his country in the Second World War Alan returned to the Dominoes and helped them win the national title again in 1945-46.
Marg Metcalfe ( nee Mainwaring )
In 1973 Marg led the girls basketball team to a third place finish at the BC High championships earning a 1st team all star berth. This still ranks as Oak Bay's best ever finish at the provincial tournament. That same year the field hockey team finished second at the BC High school championships with Marg playing a pivotal role. Marg went on to a great basketball career at the University of Victoria and and with Canada's national team.
Brian McKenzie
Brian was MVP of the BC High School Basketball tournament in 1966. At age 16 Brian was drafted by the New York Yankees baseball organization. A standout soccer goalie as well, Brian went on to a distinguished basketball career at Simon Fraser University.
Rob Parris
Rob was a dominant player for the Bays during the Don Horwood era. He was the MVP at the Island Championships in 1974. Rob, along with Dave Kirzinger won back to back Island and BC High School basketball championships in 1973 and 1974. A first team BC High School all star Rob went on to play basketball for the University of Victoria. He is one of only two Vikes players to have his number retired.
Dave Kirzinger
Dave was a big part of the Don Horwood coached Bays that won back to back BC High School Championships in 1973 and 1974, the first team to win back to back titles in over 30 years. Dave went to UBC and played both basketball and football and went on to a standout career in the Canadian Football league becoming an all star with the Calgary Stampeders.
Don Carson
Don was a member of the Barbarian rugby team in the 1972-73. Don played rugby at UBC from 1976-1979. He went on to a distinguished rugby career representing British Columbia from 1980-82. Don appeared for Canada a total of 18 times with 10 Full international caps.
Mark Wyatt
Mark captained the Barbarian rugby team to a BC High School Championship in 1980. He went on to arguably the most prolific international rugby career of any Canadian. His goal kicking exploits earned him a place in the Guiness book of world records and earned him world wide recognition as one of rugby's finest players. Mark played in the inaugural World Cup of rugby in 1987 and again in the 1991 World Cup.
Jared Barker
Jared played three years for the Barbarians, graduating in 1993. He first played for Canada in 2000 and went on to win 20 caps for his country. Jared's most impressive feat, while playing for Canada was kicking a record 33 consecutive penalties (Guinness Rugby World Record pending), starting with three points against Scotland in 2002. Jared finally missed his 34th penalty against Uruguay in the same year. Jared's professional career took him to France (Rugby Club D'Ass) and England (Coventry). Jared's Victoria rugby club is the James Bay Athletic Association (JBAA)
Winston Stanley

Winston was a four year Barb. He went on to play for his country 66 times starting in1994 against the USA. When Winston retired after the 2003 World Cup, he was (and is) the top try scorer in Canadian rugby history. His professional career included playing wing for the Leicester Tigers, one of the top rugby clubs in the world. Playing with them in 2001 he helped win the Heineken Cup, Zurich Premier League, and the play off championship. Winston's Victoria rugby club following high school was the James Bay Athletic Association (JBAA), and today he is head coach with the Velox Rugby Club.
Norman Hadley

Norm was captain of the Oak Bay Barbarians in 1981-82. "Stormin Norman" became a mammoth 6'7″, 290 lb lock who earned 12 caps for Canada (3 as captain) between 1987 and 1994. He played in the 1991 World Cup with the highly regarded Canadian team that defeated Fiji and Romania. Following the World Cup, Norm was named to the "World Team" and subsequently chosen for the Barbarians against the World Champions Australia in 1992. He was asked to play for the Barbarians four times. Norm was named Victoria's "Athlete of the Year" following the World Cup. His Victoria rugby club was the James Bay Athletic Association (JBAA).
James Squire

Jim was awarded the Merit Cup in 1940 for his exemplary citizenship and for his distinguished accomplishments in track and field, rugby, soccer and golf. His excellence in golf led to being Victoria Junior Golf Champion for three consecutive years starting in 1939. In 1941, he also doubled as the Victoria Amateur Champion. Jim continued his winning ways at the University of Washington. In 1950, after some convincing, Jim agreed to play in the BC Amateur Championship where, after two extra holes in the final, he was crowned the 1950 BC Amateur Golf Champion.
Pat Nickells (nee Fleming)
As the top graduate of Oak Bay High School in 1947, Pat Nickells was awarded the Merit Cup for her distinguished accomplishments in academics, citizenship, and athletics. Pat excelled in athletics at Oak Bay, competing in basketball and track & field with high jump as her specialty. Pat won the high jump event at the 1947 BC Track & Field Championships. Later that year in Edmonton, Pat was the Canadian High Jump Champion. She dominated the competition not only in high jump but also in sprints and relays in many meets throughout Western Canada and Washington State competing for the YMCA.
Chris Trumpy Sr

Chris was the MVP at the 1973 BC Basketball Championships in the first of back-to-back provincial titles for Oak Bay. The team dominated, winning 52 – 31 in the final. Chris's illustrious basketball career continued at UBC where he played for the Thunderbirds. For many years, Chris distinguished himself as an Oak Bay alumnus, giving back to his school by coaching boys and girls basketball teams. Chris's love of basketball, his knowledge of the game, and his commitment to the success of young people have contributed significantly to Oak Bay High's successful basketball programs.
Taras Hryb

Taras began wrestling with the Victoria Y Club at age 14. Just 17, he won bronze medals at the 1971 Pan-American Games in Cali, Colombia and again in the 1974 Commonwealth Games in Christchurch, New Zealand. In 1969, Taras ended a long national drought when he won the bronze medal in the 180-pound freestyle class at the world junior championships in Boulder, Colorado. That was Canada's first international wrestling medal since the 1936 Berlin Summer Olympics. Taras made it to the 1972 Munich Olympics as a mere 18 year-old but chronic knee injuries eventually ended his career. His accomplishments included winning the Canadian university title four times and competing in the world championships and World University Games. Taras was named Victoria's "Male Athlete of the Year" for 1969 and was inducted into the Canadian Wrestling Hall of Fame in 1988.
Kelly Dukeshire

Kelly was a standout for the Don Horwood coached Bays basketball teams that won the BC high school championship in 1977 and runner-up in 1978. Kelly was a BC tournament First Team All Star in 1978. After high school graduation, he went on to star for the dominant University of Victoria Vikes basketball teams. Under coach Ken Shields' guidance, Kelly contributed to four national university championships in his five year career. Kelly was also a member the Canadian National team that won the World Student Games' gold medal in Edmonton in 1983.
Janet Fowler

Janet's route to the Hall of Fame was on the basketball courts of the world. A B.C. high school all-star award led her to play for the dominant University of Victoria teams from 1982 to 1987. A powerful forward with a complete arsenal of skills, she was a key part of two national university championship victories, and in her final university season was named to the CIS All Canadian team and was named MVP in the national finals. Janet was named UVic's Top Female Athlete in 1987. A career with the national team followed, highlighted by bronze medals at the Pan American Games and the 1986 World Championships, Canada's best ever finish. Janet moved to Germany to play professionally for ten years at the First Division level.
Ike MacKay

Ike was a soccer standout at Oak Bay High, playing a leading role on the Bays 1965 BC Championship team. In 1968, while still 19, Ike played for the Canadian Olympic Team and the Vancouver Royals of the NASL. Ike was a member of the Alberta Golden Bears' 1972-73 CIAU National Championship team, and in 1972 and 1977, he was a member of Canada's FIFA World Cup qualifying teams. Ike finished his professional soccer career playing for the Portland Timbers from 1976 – 1978.
Ken Kirzinger

Ken is the only athlete in the history of boys' basketball in British Columbia to be selected to the provincial championship tournament First All-Star Team three times, a feat he accomplished from 1976 – 1978. Ken was also named the BC tournament's Most Valuable Player in 1977 leading the Bays to the provincial title. He also excelled in track and field winning the 1977 BC high school gold medal in the javelin. After high school Ken played one year of varsity basketball at the University of Victoria followed by one year of varsity football at the University of British Columbia before embarking on a highly successful career as a TV and motion picture stunt man.
Evan Jones
Evan was part of the Bays back-to-back B.C. high school basketball championship teams in 1973 and 1974. During high school he was also the B.C. 17-year old age group badminton champion. After graduating Evan played for one season with the UVic Vikes basketball team followed by three consecutive all-star seasons with the UBC Thunderbird football team. Evan was drafted in the first round by the Winnipeg Blue Bombers and played one year in the CFL before injuries cut short his pro football career. Evan transferred his talents to rugby and played for three years with both the 15 a-side and 7 a-side national teams.
Zach Whitmarsh

Zach established school records in the 400m, 800m, 1500m and the 1600m relay. He was BC High School Champion three times in the 800m and twice in the 1500m. After graduation Zach attended East Tennessee State University. The Canadian champion in the 800m for five consecutive years, Zach represented Canada at the 2000 Olympic Games in Sydney. In 1999, Zach captured the bronze medal in the 800m at the Pan Am Games in Winnipeg.
Bob McLaren

Bob set school records in the 100m (10.7s) and 200m (22.1s) in 1963 that had yet to be broken at the time of his induction in 2008. At the annual Victoria Inter-High Track Meet in 1963, Bob broke five records in the 100, 200, long jump, triple jump and relay to help Oak Bay win the championship. That same year, Bob was named "Outstanding High School Athlete" at the Vancouver Relays where he won two individual events, 100 and long jump and two relays, setting two records along the way to help Oak Bay win the BC High School aggregate trophy. After high school, Bob attended Oregon State University where he honed his skills as a 400 meter hurdler. He subsequently held the Canadian record (50.7s) and won national championships in the hurdles and several other events (indoors and relays) from 1966 to 1968. At the 1967 Pan American Games, Bob won a bronze medal in the 400 meter hurdles and a silver medal as part of the 1600m relay team. Also in 1967, Bob was named "Victoria Athlete of the Year". In 1968, Bob represented Canada at the Mexico City Olympic Games in the 400 meter hurdles.
Anna-Marie deZwager

A multi-sport athlete, and a Spirit and Athletic Excellence Award winner during her days at Oak Bay, Anna-Marie chose to be a field hockey goalie during her five years at the University of Victoria. In 2001, Anna-Marie began her rowing career, and has been a member of several crews including the Women's Eight which placed 7th in the 2004 Olympic Games in Sydney, Australia, and the 2007 Women's Quad, which qualified for the 2008 Beijing Olympics by placing 5th in Munich at the 2007 World Rowing Championships. As part of her off-water training for the 2008 World Championships and the Olympics, Anna-Marie placed 1st in the Canadian Indoor Rowing Championships in February, 2008.
Deb Whitten

Oak Bay's Female Athlete of the Year in l984, Deb Whitten "was one of the best field hockey goaltenders in the world" according to Lynne Beecroft, coach of the UVic Vikes. Backstopping the Canadian team from 1989 to 1995, Deb played in two World Cups, the l992 Olympics and in two Pan American Games, where a silver medal in l991 and a bronze medal in l995, cemented her reputation as one of the premier goalies in the sport. Once her playing career was over, Deb continued to be involved in field hockey as an assistant coach with national teams that played in the 1998 Commonwealth Games and the 1999 Pan Am Games, where the team placed third.
Jim Rutledge

Jim graduated from Oak Bay in l977. A year later, he won both the British Columbia and Canadian Junior Amateur Golf Championships. In 1979, he turned professional and won the first of three B.C. Open titles. Playing in Europe, Canada, and Asia over the years, Jim qualified for the Nationwide Tour in 2001. In 2006, Jim finished 14th on the Nationwide Tour money list, his standing bolstered by a win in the 2006 New Zealand PGA Championship. His position on the money list qualified him for a spot on the 2007 PGA Tour, where he became the second oldest rookie in the history of the tour. Jim has also represented Canada three times at the World Cup and twice in the Dunhill Cup.
Chris Hall

Not many athletes have been able to play for as many elite teams in as many different sports as Chris has and then gone on to achieve world class status in the sport of lacrosse. Chris graduated early from Oak Bay as a 16 year old and always played his school soccer and basketball against older athletes. Chris played for the provincial champion Victoria All Stars, first division rugby with the James Bay Athletic Association, was national MVP for the Victoria Chinooks at the national junior basketball championships, played varsity basketball for the UVic Vikes, played senior men's basketball for the Victoria Scorpions and was named to the all-time Victoria junior football team. It was in lacrosse where Chris achieved his greatest successes. As a player he was a Western Lacrosse League all star and a member of the national champion Victoria Shamrocks. He was on the Canadian National Team from 1981-1986 and represented Canada at the 1978 Commonwealth Games. In field lacrosse Chris was named to the all work team representing Canada at the world championships. As a coach Chris led the Victoria Shamrocks to the Mann Cup championship, and coached the Calgary Roughnecks of the National Lacrosse League to the league championship.