Congratulations to the Athletic Award of Excellence Sweater recipients for 2016-17
Left to right: Carmen Andiel, Sophie deGoede, Rae-Lynn Parkins, Patricia Horwood, Judy Cristante and Marcel Petruzzelli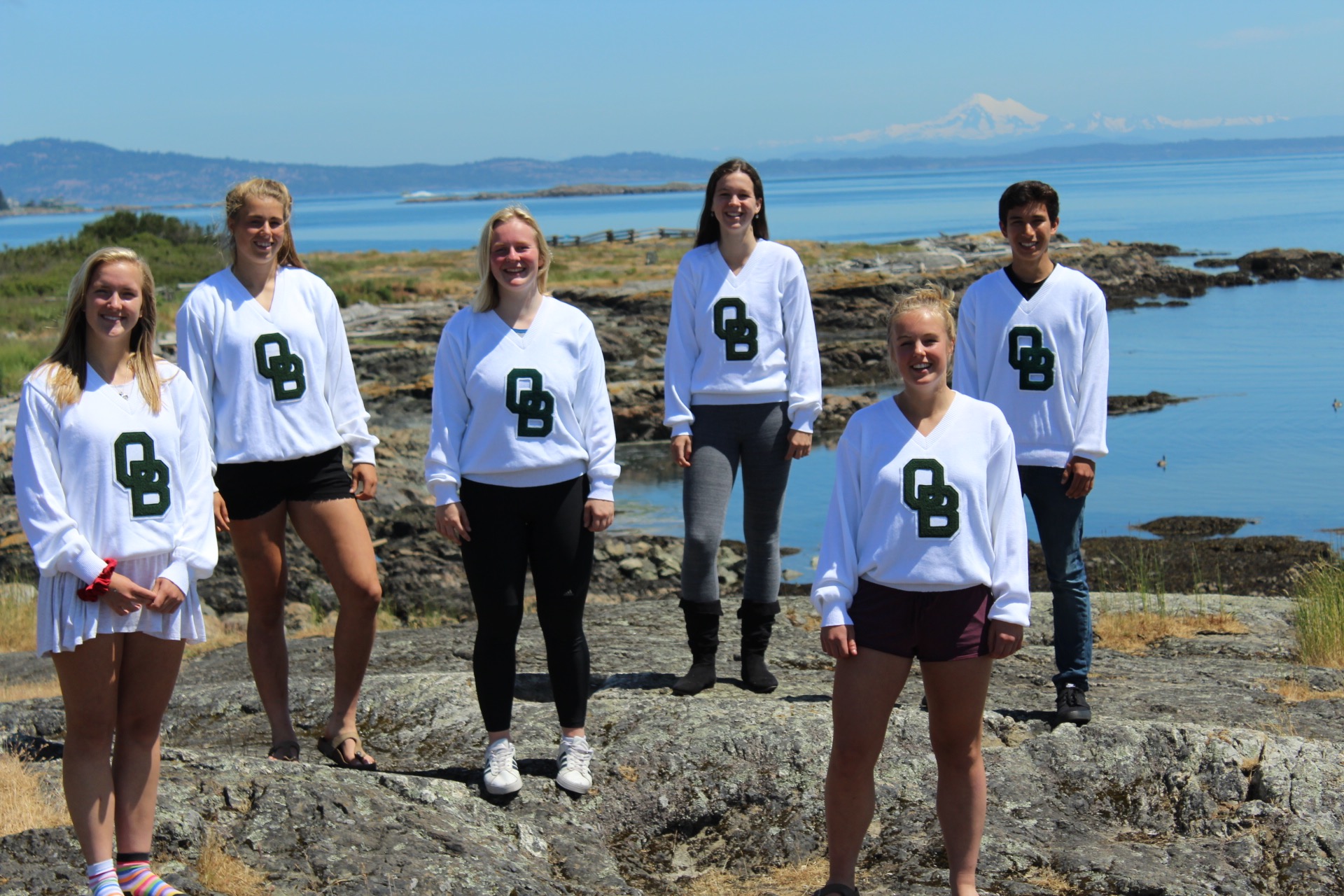 Congratulations to our Track and Field Team……11th  Provincial Title in 15 years!!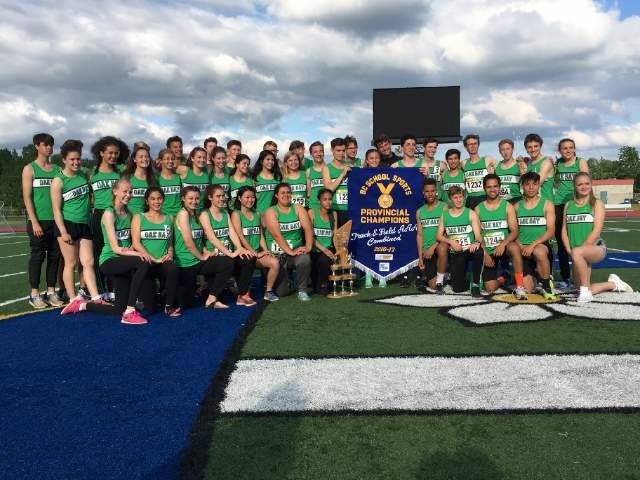 Congratulations to the Oak Bay High School track team for a very successful weekend at the BC championships in Langley.  The team of  almost 50 athletes in both the Junior and the senior teams competed well and made a great showing in all the events.
A number of juniors were medal  winners with Jade Forrest finishing third in the pole vault, Isaac Clements gold medalist in the pole vault and Joe Robertson  capturing a silver medal in the 3000m race and an stunning gold medal in the 1500m . Annika Weir was top 5 in both the race walk and the pole vault.
The Senior Team had an amazing weekend and captured its 11th provincial title with 25 different athletes contributing to the point total with an outstanding team effort.  There were  many amazing performances and great efforts but a few standout.
Alisa Lyesina and her brother Vlad both raced to gold medals in the 800m events. That might be a brother sister first at the championships.  
Rachel Grohovac was the silver medalist in the women's pole vault, Jack Stanley was bronze medalist in the Sr. 3000m race,  and Alex Dillon won a silver medal in the 1500m racewalk.
Tyler dozzi won two silver medals in two epic duels over 1500m and 3000m races. In the 3000m race Tyler narrowly lost an amazing battle in which he and the race winner both shattered a 42 year old BC record.
Please congratulate all the team members on their provincial banner.  
                                       BACK TO BACK BC CHAMPS!!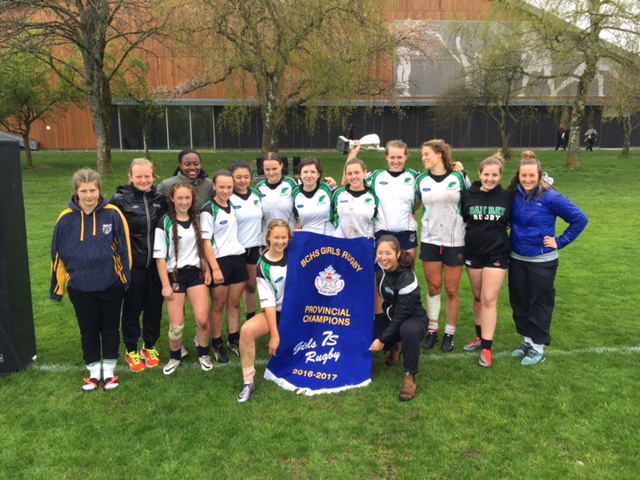 Congratulations to the Oak Bay girls rugby 7's team who defeated Belmont 15-10 in the championship game to win back to back Provincial Championship titles!! After going 3-0 in pool play, the Barbs fought their way past a tough McRoberts team in the quarterfinals to finish their first day undefeated. They then went on to battle through a gritty 17-7 semi-final victory over the Island Champion Shawnigan Lake School team. Stifling defense was a key factor in that game and carried over into the Barbs final game against Belmont. After going down 5 to start the game, Oak Bay came back to tie it 5-5 at the half. Belmont scored early in the second half only to have the Barbs draw even again at 10. Then with almost no time left on the clock, your soon to be back-to-back provincial champs crossed over the line for the game winning score! Well done to all players and coaches for their incredible accomplishment, Oak Bay Nation is so very proud of you!!
SNR BOYS CAPTURE OAK BAY'S 22nd SNR BOYS BASKETBALL ISLAND CHAMPIONSHIP

The Oak Bay Bays made it a clean sweep of the senior basketball Island titles with a convincing victory over host Belmont on Saturday, Feb 25th.  It was Oak Bay's record 22nd Island basketball title and 3rd straight for coach Chris Franklin and the Bays.
First Team All Stars included Isaiah Romanow, Caelen Scott and Diego Maffia and MVP went to Jaden Touchie.
Good luck at the BC's boys!
Attention all Tennis Players.  Oak Bay Tennis Tryouts begin Fri Feb 17th and Mon Feb 20th at 7 am in the tennis bubble.  New  players to tennis are welcome and needed!
Please sign up at the link below:
Oak Bay senior girls win Island hoops title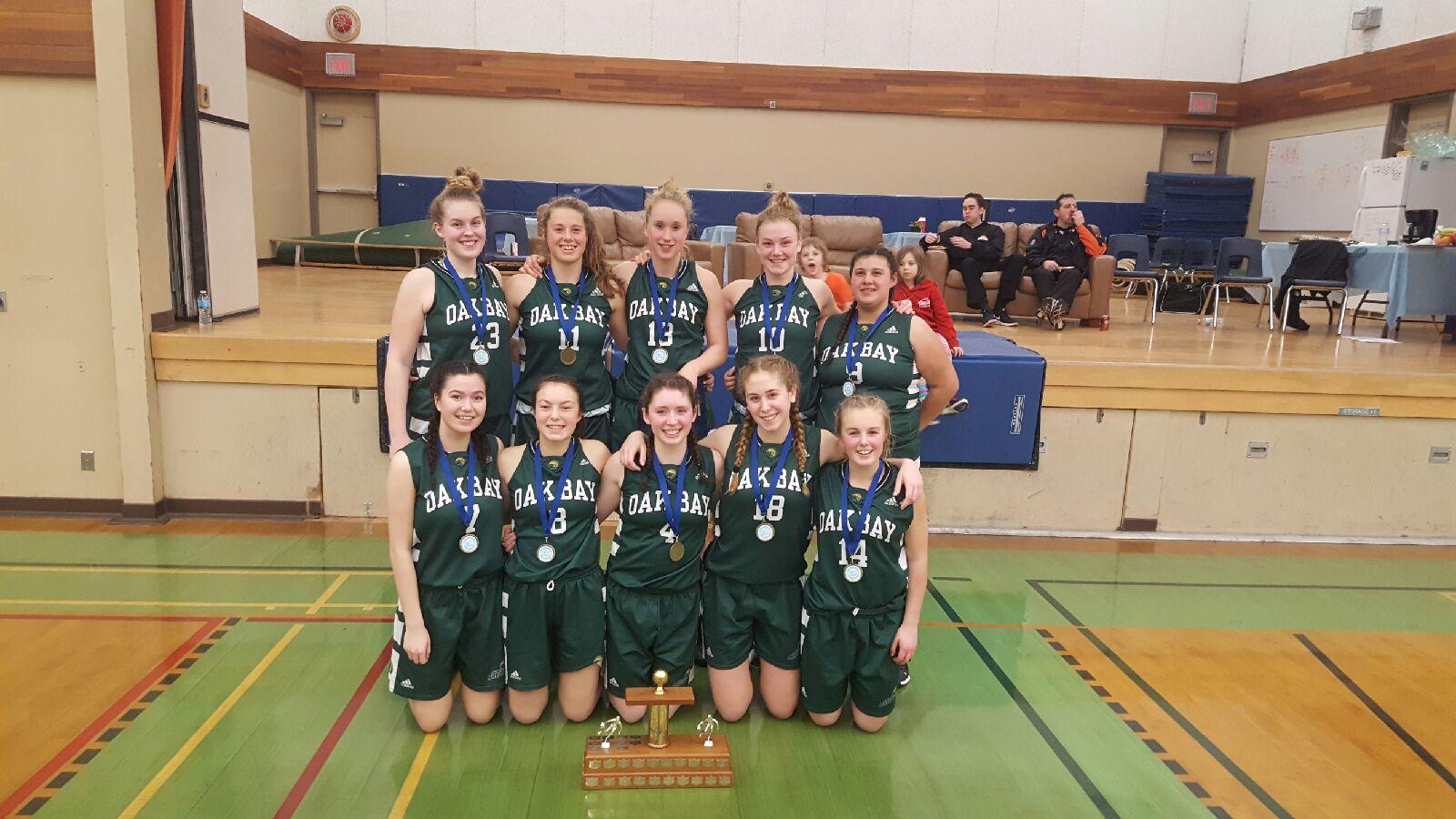 The Oak Bay Breakers' magical season continues as coach Rob Kinnear's senior girls claimed the Island triple-A basketball championship in Nanaimo on Saturday, defeating the host Dover Bay Dolphins 81-34.  Oak Bay remains undefeated this season and is the favourite to claim a B.C. title in Langley, March 1-4.  They will savour this win for now.  "We came out of it injury free, everyone played really well. You never want to downplay an Island title, it's always exciting to win an Island title and I'm very proud of how they took care of business," said Kinnear.
Oak Bay's Sophie De Goede was named the tournament's most valuable player.  Natalie Froese and Bego De Santiago Otero were selected to the First Team All Star team and Jasmine Lambert and Imogen White were selected to the Second Team All Star team.  Natalie Froese was also selected as Defensive MVP
Work ethic carries No. 1 Oak Bay into playoffs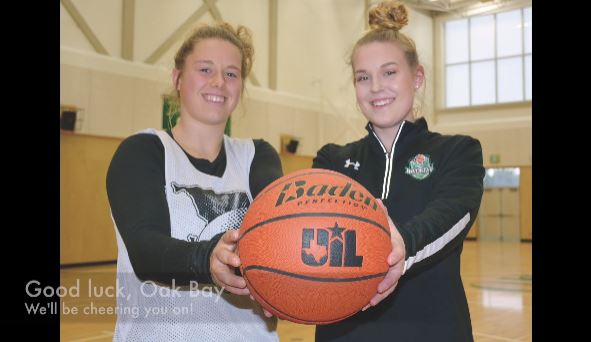 by

  Jennifer Blyth – Oak Bay News
Oak Bay 

posted

Jan 31, 2017

at

10:00 AM
Oak Bay High's senior girls basketball team boasts a perfect record heading into playoffs, but the players are not taking anything for granted.
Oak Bay is undefeated through league play and won all three tournaments this season, giving them a No. 1 ranking with the city championships on the horizon, says coach Rob Kinnear.
"I think we definitely have a good chance," Kinnear says, but adds, "we've upset teams in years past and we've been upset."
With four Grade 12s, led by third-year team members Sophie de Goede and Imogen White, five Grade 11s and a talented Grade 9 international student from Spain, the team has good leadership along with a promising core of returning players for next year, Kinnear says.
Despite their success, the "athletic, talented group of girls" continues to work hard, keeping a collective eye on the ball – and B.C.s
"I think with this group, for all the success they've had, they're still playing like they're the underdog," Kinnear says.
It's rare, he adds, "but I think that's why they've accomplished what they have."
The Islands follow the city championships, with teams vying for two berths to provincials. A wildcard spot will also be up for grabs, Kinnear says.
As a young team last year, they had the experience of going through the Islands before finishing third at the B.C. championships, and they bring that experience forward.
Here in Greater Victoria, a talented Claremont team likely poses their biggest competition, with a friendly rivalry and friendships growing between the teams over the years, Kinnear says. Up Island, Nanaimo's Dover Bay also boasts a formidable program.
The city championships get under way Feb. 9 to 11 and Islands follow Feb. 16 to 18.
Oak Bay wins Centennial's Top 10 Shoot-Out tourney
Victoria school defeats Breakers in championship
Tri City News   January 19, 2017 03:19 PM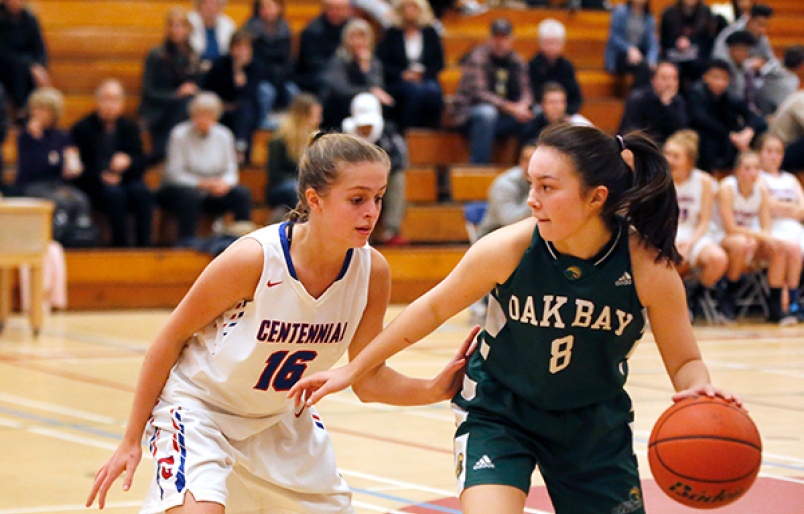 Oak Bay Breakers took the championship banner at Centennial's Top 10 Shoot-Out AAA girls basketball tournament last Saturday.
The Victoria team defeated Langley's Brookswood secondary 67-45 in the finals, with Georgia Alexander scoring 17 points in the game, while Natalie Froese had 12 points and both Imogen White and Sophie de Goede each scored 11.
Meanwhile, North Vancouver's Seycove secondary emerged victorious in a third-place showdown against Surrey's Lord Tweedmuir, which Seycove won 93-86. Kelowna secondary took fifth place and Argyle secondary took sixth.
The game capped a rough tournament for the participating Tri-City clubs.
The hosting Centennial Centaurs managed to stay out of the standings basement thanks to a 64-6 overtime win against Handsworth secondary, while the Dr. Charles Best Blue Devils finished in 13th after defeating New Westminster 60-50 on the final day of the event.
Port Coquitlam's Riverside Rapids lost their last match of the weekend to place 12th at the tournament.
sports@tricitynews.com
@TriCityNews
© Copyright 2017 Tri-City News
Oak Bay's Jaden Touchie follows late dad's footsteps to Legal Beagle tourney 25 years later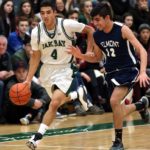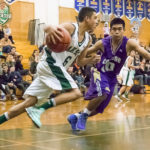 This is a story of what happens when something as simple as a basketball tournament is allowed, like the best-tended gardens, to keep coming back season after season.
Before you know it a generation has passed and, quite suddenly, tangible ties between the past and the present reveal themselves, adding a dimension of depth to the proceedings.
Every year, the Beagle never fails in its quest to bring B.C.'s top-ranked boys teams together for three days of spirited competition in Port Coquitlam. This season's 28th edition, which opens play Thursday, is no exception.
In an era of scoring, stats and numbers, Touchie has stood out the past few seasons because of his penchant to play the game the right way.  Yet as I did more research for my latest interview, yours truly realized I had reported on Jaden's dad, Evan Touchie, during his own high school days in the early 1990s with the Alberni District Armada. Ahh, that's why the surname was so familiar.
Twenty-five years ago, back in December of 1991 when the Legal Beagle was still being played in the week before Christmas, Evan Touchie, a hard-nosed guard, and talented forward Patrick Cannon, came to PoCo and led the No. 10-ranked Armada on a dominant run through the field, including an 89-67 win in the final over No. 2-ranked Vancouver College.
Alas, Jaden and his family have endured their own tragedy since. Evan Touchie lost his life to a heart attack at the tender age of 33. When I told Jaden earlier this week that his dad hit four treys and scored 17 points in the 1991 Beagle final, I could sense his pride. It was a pleasure to ask him to describe his dad as a basketball player.
"He was a really aggressive guy on offence and guys didn't really know how to guard him," says Jaden, just seven when he lost his dad, and celebrating his 18th birthday when we spoke Tuesday. "He wasn't really big but he was a heavy dude. He was 6-1 but like 200 pounds, and he could shoot and run. It gets hard to guard a guy like that."
As a 10th grader, Jaden drew the task of guarding Yale Secondary's sparkplug guard Jauquin Bennett-Boire in his B.C. MVP year of 2014-15. He figures if he had to guard his dad in his prime, that's what it would have been like.
And without question, there has not been a defensive assignment handed Jaden that he has not embraced.
"There are some players who struggle in that environment, but Jaden thrives in it," says Oak Bay head coach Chris Franklin of the 6-2, 175-pound Touchie, who averages about 18 points per game. "He just won't give up easy shots, he understands angles and he moves his feet so well. Really, he epitomizes our team. His personality is imprinted on us."
At last weekend's Vikes Alumni Invitational tournament held at the University of Victoria, Touchie led Oak Bay to a third-place finish, including a 79-78 overtime win over No. 1-ranked Walnut Grove of Langley. He was the only B.C. player selected to the tournament all-star team.   His most immediate goal?   That would be helping the Bays win the B.C. title this March, something that hasn't happened in the 40 years since Oak Bay last won in 1977. Next season, he's set to begin a university career with his hometown Vikes.
"Losing my dad pushed me to try and get to that (university) level," Touchie says. "He raised a family and he didn't get a chance to, so now I am going to pursue that dream. But to me, it's bittersweet that I can but he couldn't."
Still, ask Jaden Touchie what he's doing and he'll tell you he's following in his father's footsteps. And this Saturday at the Legal Beagle he has a chance to be standing in the same shoes his dad did a quarter-century ago.
CONGRATULATIONS TO OAK BAY CROSS COUNTRY TEAMS!
CROSS COUNTRY – Oak Bay won the BC High School Boys Cross Country Championship, led by individual champion Tyler Dozzi, over a rugged hilly course at the Telemark Cross Country Park in Kelowna, BC.  Dozzi pulled away from runner up Thomas Nobbs of Vancouver's Point Grey Secondary at the top of the final hill ascent to win  the gold medal by thirty-three seconds.   For Oak Bay, it was their 10th BC Boys championship, an all-time record, ahead of the six championships won by Mt. Douglas, under coach Stan Gill.  The Oak Bay team total of 42 points outdistanced second place Reynolds Secondary (74 point) and third place Langley R.E. Mountain (75 points).  The Oak Bay team members were Dozzi, Vlad Lyesin (17th), Malcolm Harrison (27th), Jack Stanley (29th), Jack Cooper (31st), Marcel Petruzzelli (54th) and Jack Mulcahy (84th).     Girls – Oak Bay was 5th in the senior girls standing led by Justine Stecko's  6th place finish.  The other team members are Cara Butler, Presley Rangel, Kyra Clements, Patricia Horwood and Lily Maric.
BC School Sports formally sanctioned BC junior cross country championships in 2015 and the Oak Bay junior boys team made school history by winning the school's first BC Junior Boys team title with a low team score of 35 points.  Team members are Joe Robertson (7th), Findlay Day (9th), Michael Barber (16th), Alex Lott (26th), Jack Boden (27th) and Jeremy Carder (108th).   Oak Bay finished 7th in the junior girls championship led  Sarah Bryan  in 10th place.  Other team members are Isabel Murphy, Alisa Lyesina, Tayah Giesbrecht, Delaney Chan and Chloe Hoffman.   The team is coached by teachers Keith Butler and Tessa Kubicek
Congratulations to the Athletic Award of Excellence Sweater recipients for 2015-16
Matti Grant, Madhu McConnell, Caroline Crossley and Sophie deGoede
Oak Bay Girls Rugby capture BC's 7's Title

Over the weekend The Oak Bay Girls Rugby team won their first ever Provincial 7s Title. The tournament wrapped up Saturday afternoon with a commanding 38-0 performance over the Lake City Falcons. The team stood together throughout the entire weekend. Coming in to the tournament ranked 15th the girls proved they could rise to the top. On route to the final they knocked off defending champions Brentwood College. The team played their best rugby as a team with multiple different try scorers. Overall the girls proved they are number 1 in the province and will be a force in the 7s league for years to come.  Congratulations to the team and coaches Brad Hart, Jess Nielsen and David Crossley!
Barbs Defend Boot Title

Congratulations to the senior boys rugby team, Oak Bay Barbarians, as they successfully defended the prestigious Gareth Reese Boot trophy with an impressive 31-10 victory over SMU.  The Barbs went down 10-0 early and stormed back with 31 straight points for an incredible all round team effort.  Good luck to the team this upcoming season and coaches Mr Allen, Atkinson, Jacques, Peacock, Turner and Zolbrod
Breakers earn Bronze Medal

Congratulations to the Oak Bay Breakers senior girls basketball team who earned an impressive Bronze medal at the recent Provincial Championships in Langley.   The girls earned impressive wins over Gleneagle 62-41, Panorama Ridge 76-69 and Lord Tweedmuir 102-83.  Their only loss was to eventual provincial champion Brookswood Bobcats who captured their third straight BC title.  With an entire starting lineup returning next year, it looks to be be a very promising future for coaches Rob Kinnear and Ella Macquisten.
Sophie deGoede earned a first team all star award and Georgia Alexander was named to the second team.  Congratulations to all team members on a very impressive season and BC tournament!
Back to back Island Champions!
The Oak Bay senior boys Bays won 89-57 over Cowichan to win Vancouver Island Championship for the 2nd year in a row. Oak Bay advances to the Provincial Championship March 9-12 in Langley. Madhu McConnell was MVP at the Islands. 1st team all stars went to Jaden Touchie and Myka Tang Blumenshein. Defensive MVP also went to Jaden Touchie.  Congratulations to the boys and best of luck to coach Chris Franklin!
Back to back Island Champions!
Congratulations to head coach Rob Kinnear, assistant coach and former grad, Ella Macquisten and the senior girls basketball team who won back to back Island Championships and their 3rd title in 4 years with a resounding 77-55 win over #2 seeded Claremont Spartans.
Sophie deGoede was named tournament MVP, Imogen White and Georgia Alexander were chosen as first team all stars and Natalie Froese was chosen as top defensive player with a dominant performance in the final on Claremont's top scorer.
The Breakers enter the Provincials on March 2 in Langley as the 5th ranked AAA team in the province.  Good luck to Rob, Ella and the team!
Sophie de Goede – Island MVP
#IslandMVP: This two sport star has the best rugby genes of any high schooler in Canada http://vancouverisland.ctvnews.ca/video?clipId=806138 …
THANA FAYAD and NICK MICKLEBERRY BC HIGH SCHOOL VOLLEYBALL PLAYERS OF THE YEAR FOR 2015!!
For the first time in our seven year Best Of BC polls, one school has swept top honours. Oak Bay's Thana Fayad and Nick Mickelberry are our girls and boys volleyball Players of the Year by the Vancouver Province newspaper as voted by CIS University and BC High School volleyball coaches.
THANA FAYAD
Thana Fayad was so far ahead of the curve through her secondary school career that on Friday, when all her classmates at Oak Bay Secondary in Victoria celebrate the final day of school ahead of the holiday break, she will be enjoying the final day of her high school life.
Fayad, however, will be leaving in style. Two weekends ago, she helped lead her high school volleyball team to the program's best finish in school history, fourth place at the B.C. senior girls Quad A championships. And following hot on the heels of that team accolade is an individual one. Fayad, in voting by the coaches of B.C.'s CIS and NCAA volleyball programs has been selected The Province's Best In B.C. girls high school volleyball Player of the Year.
"Coming to a new school for any athlete can be a hard task," said Oak Bay girls head coach Scott Millington. "But for her there was added pressure because of her reputation for being such a great athlete."
To her credit, Millington says, Fayad intergrated seamlessly with the rest of the team, captaining the group in an encouraging way that helped build the team's chemistry even tighter. And then there's her skill and it's enough to make you trip over your verbiage.
"Thana is a once-in-a-lifetime player, which you don't see too often," says Scott Millington of a player who has become a recent mainstay in the starting lineup of the Canadian junior national team program.
Full article http://blogs.theprovince.com/2015/12/16/best-of-bc-oak-bays-thana-fayad-tops-poll-selected-the-provinces-bc-girls-volleyball-poy/
NICK MICKLEBERRY
Nick Mickelberry's growth plate is still as busy as ever, even though the star outside hitter with Victoria's Oak Bay Barbers has hit the 6-foot-6 mark over this, his senior year.
From a symbolic standpoint, there's no better way to begin this very tall, real-life tale because Mickelberry is a player whose personal ceiling just continues to grow.
Despite the fact that he's only been playing the sport seriously for three years, he led Oak Bay to recent B.C. Triple A championship title, a feat that not only showcased his high-swinging attack, but more importantly hinted at the vast reserve of untapped talent that is steadily revealing itself on the court. I think of any player I have ever coached, he has improved the most in terms of skill acquisition," said Carmichael. "The change has been huge and he's been growing like crazy. I remember a lot of the baby giraffe in Grade 10. He was trying to find out where the limbs were. Now, co-ordination caught up to growth and that is where improvement has been dramatic."
Full article at  http://blogs.theprovince.com/2015/12/16/best-of-bc-oak-bays-mickelberry-is-selected-no-1-in-the-provinces-b-c-boys-volleyball-poll/
  OAK BAY BARBERS CAPTURE PROVINCIAL VOLLEYBALL TITLE!
Oak Bay went 7-0 in the tournament, first team in at least a decade to come out of the second pool to win (they came out of the third pool to be second in 2007), had to beat #1 in quarters, #2 in semifinal, #3 in final. Incredible match by Nick Mickelberry in the semi vs Dover Bay, 27 kills on 55 attacks–most outstanding player in AAA. Piper Illman, only playing the key position since September this year, was selected to the first all/star team as the Best Setter in the tournament. Contributions from all players–Evan Reynolds was our best player vs Walnut Grove, replacing injured Madhu on Wednesday and Thursday, the a key defensive sub vs Kelowna and Mt Boucherie in the quarters and final. Matti Grant (best passer), Kevin Kok, John Lesperance, Daveed Brechner shared the libero position excellently.
Oak Bay recorded 72 blocks for points, during the tournament, 20 in the final! Matt Griffin with 11, Cole Beevor-Potts with 6, 3 in the fifth set.
Oak Bay was powered by the hitting of Nick Mickelberry and Madhu McConnell and received key blocks from Cole Beevor-Potts in defeating the Bears 20-25, 25-11, 25-23, 21-25 and 15-9 in the clincher.
"I'm so happy for the kids," said coach Al Carmichael, who is now tied with Rod Belinski for second place in all-time triple-A championships with five. Carmichael led the Barbers to crowns in 2006, 2011 and 2012 and also won in 1988 with Mount Douglas.
"Nick was pretty much on life support in that fifth set and on his knees. Everybody stepped up and played their best. It wasn't an easy task, that's for sure," said Carmichael, whose Barbers knocked off the No. 3-, 1- and 2 seeds along the way.
                       17-Year- Old Crossley Ready For Sevens Series Debut
She's only 17 but Caroline Crossley has had made a tremendous impact in sevens where she has been rewarded with her first HSBC Women's Sevens Series cap at the Dubai Sevens.
The Victoria native is one of the best up-and-coming young female players in Canada and was rewarded with a centralized contract for the season. She has represented Canada's Maple Leafs in Amsterdam and Hong Kong and also helped Canada earn a silver medal at the 2015 Youth Commonwealth Games in Samoa.
Check out the video below where Crossley talks about her school life, her previous rugby experience as well as the support she has from her parents.
Click to watch Caroline's video
  OAK BAY TAKES COLONIST CUP IN BATTLE OF SOUTH OAK BAY
Whatever they are doing to kick the soccer ball around in that area of town, it's working. It's a connection that stretches all the way to the 23-player Canadian roster in the recent fourth-round of CONCACAF qualifying games for World Cup Russia 2018 qualifying, which included Oak Bay products Adam Straith and Simon Thomas.
The Oak Bay Bays defeated the Glenlyon Norfolk School Gryphons 2-0 Thursday night at Centennial Stadium in the 2015 Greater Victoria Colonist Cup boys' high school soccer final.
Straith, who just returned from San Salvador after Canada's scoreless World Cup qualifying draw Tuesday against El Salvador, came to the Bays' dressing room and gave the players a surprise pep talk before the Cup final Thursday.
Eliot Cuthbert, who recently returned to Oak Bay from the Vancouver Whitecaps Academy, scored both goals in the first 16 minutes.
It appears to be a formula for success as the Bays added the Colonist Cup to their 2015 treble, which also includes the Lower Island regular-season title and Island Triple-A championship. They go for the quad next week at the B.C. high school Triple-A championships.
OAK BAY BOYS GOLDEN AT CROSS COUNTRY PROVINCIALS
Oak Bay's senior boys captured their eight team title at a rainy Jericho Beach in Vancouver on Nov 7th during the BC High School Cross Country Championships.
Jack Stanley was first across the line for Oak Bay, finishing 9th overall with a time of 24:49 followed by teammates Max McCulloch, Vlad Lyesin, Malcolm Harrison, Marcel Petruzzelli, Jack Cooper and Liam Boland.   Michael Barber was Oak Bay's top finishing junior boy, crossing the line in 18:53 for 9th place.  Also from Oak Bay, Rae-Lnn Parkins was the top finishing senior girl with a time of 21:06. Oak Bay also earned the silver team title in the junior girls division.  Justine Stecko led her team across the line at 15th of 200 runners witha  time of 19:22.  Contributing to the silver finish were Shannon McMillan, Sarah Bryan, Cara Butler, Ella Mickelberry and Presly Rangel.
   FROM OAK BAY SOCCER TO TEAM CANADA
It's been quite a journey from Bays United youth soccer and Oak Bay High to RFK Stadium tonight in Washington, D.C.
Defender Adam Straith and goalkeeper Simon Thomas, both 25, are on the Canadian roster for the men's soccer friendly against Ghana. The Black Stars are FIFA world No. 25 and should provide No. 104 Canada with just the preparation it needs for its CONCACAF Russia World Cup 2018 fourth-round qualifying-round openers against Honduras on Nov. 13 at B.C. Place and Nov. 17 at El Salvador.
"To have two players come out of not only the Bays United system, but also the Oak Bay High School team, onto the Canadian national team I think is something people in the area should be proud of," said Straith.
"I have confidence that not just Oak Bay but [the Island] can continue to produce players that can one day make the step to professional football. That could then lead to them playing for their country, which is the biggest honour any of us who do what we do can have."
Straith, a regular on the Canadian backline during this summer's Gold Cup and earlier rounds of CONCACAF qualifying play for Russia World Cup 2018, is after his 30th cap tonight and Thomas his third. Thomas returns to dress behind veteran 'keeper Milan Borjan for the first time since his inaugural two caps with the national team in 2013. Both Straith and Thomas play professionally in Norway.
"It was great hearing from Simon when he got the message that he was coming into camp," said Straith.
"He's a fantastic keeper who has done very well this year in Norway. Playing every week has noticeably done very good things for him, and you can tell just in the training sessions here that he is in really good form. We've been playing together for years now, and it's great to see him with us because I've experienced first-hand how hard he has worked throughout his career, and he deserves every opportunity that is going to come his way."
Ghana has qualified for the last three World Cups, making the round of 16 in 2006 at Germany, the quarter-finals in 2010 at South Africa, but not advancing from group play at Brazil in 2014.
"It's nice to finally get to Washington after having a week-long camp in Orlando, and to do the final preparations for the game," said Straith
TOP RANKED BAYS KEEP RAVENS GROUNDED

The battle of the bays took on a spectacular setting as Oak Bay ventured to Royal Bay to break in the school's new artificial turf pitch high atop Colwood on a sunny Tuesday afternoon.
There couldn't be a more scenic setup as the Lower Island senior boys high school season kicked off with the defending triple-A Island champion Bays handing the host Ravens a 3-0 setback, declaring they will be a team to watch on the Island again this season.
"The guys played well. Everyone played, all 21, so everyone had a chance to contribute," said Oak Bay co-coach Richard Fast. "We haven't trained a lot so this is really our first opportunity to see us in a game setting."
There was plenty to see as Jack Hill opened the scoring in the 15th minute after several opportunities had been squandered. Five minutes later Eli Cuthbert headed home Nick Hurley's corner for a 2-0 first half lead.
Ravens goalkeeper Vini Barbaros did well to keep the Bays to just the two. Matti Grant finished off another Hurley corner to end the scoring in the waning minutes.
"We have a strong group of players," said Fast. "Eli Cuthbert, who came over from the Whitecaps residency, has really helped us and Jack Hill, our captain who is playing men's Division I with me at Bays United, is a superstar in my books.
"If we build the team through those guys with Matti Grant at the back and strong goalkeeping I think we'll be in good shape."
Hill, a 17-year-old in Grade 12, has a goal in mind for the Bays.
"I just want to win the Colonist Cup. We lost that one to SMUS last year and that pissed me off a bit," the centre midfielder said.
"I just want to win that so badly and hope for a long season with a lot of wins. It was a good start to the season and hopefully we can continue it."
SWEATER WINNERS 2014-15
Congratulations to Oak Bay's Athletic Award of Excellence winners last year: (top left to right) Hannah Cater, Taylor Chan, Andrea Psotka (bottom left to right) Morgan Roskelley, Nicola Horwood and Jessica Manness.
Congratulations to these amazing athletes and good luck to all athletes and teams this upcoming school year!
FORMER OAK BAY HIGH STUDENT AND CANADIAN MEN'S NATIONAL TEAM MEMBER, ADAM STRAITH, SIGNS WITH NORWAY'S FREDRIKSTAD FK OF NORWEGIAN FIRST DIVISION.

The 24-year-old, who had been a member of "Unattached FC" for months, signed with Norwegian club Fredrikstad this week. The former member of the Vancouver Whitecaps Residency remained a regular contributor to Benito Floro's national team despite being without a club; his performances for Canada likely played a part in the defender/midfielder landing his new  deal in Norway.
 OAK BAY WINS 24TH STRAIGHT ISLAND TRACK AND FIELD TITLE!
Congratulations to the Oak Bay track and field team as they captured its 24th straight Island championship with 647 points as it now looks for its 11th BC title in 15 years.  The Bays were led by Danica Postle's gold medals in girls triple jump and high jump and silver in the long jump.  Mak Rokic set a new Island meet record of 41.28 metres in the discus.  Malcolm Harrison also set a new Island meet record in the junior boys 800m.  The top five individual finishers in each event now qualify for the BC championships that will take place June 4-6 in Langley.  Good luck!
CONGRATULATIONS BARBS!
The Oak Bay Barbarians didn't just write a new chapter in a high school rivalry Wednesday night. They threw the entire book at it.
Trailing 22-0 at the half, the Barbs rallied with 26 consecutive points to defeat the St. Michaels University School Blue Jags 26-22 in an incredible comeback in the annual Rees Boot rugby game played in front of a large and loud gallery that ringed UVic's Wallace Field.
Oak Bay hoisted the coveted Boot, which is one of Gareth Rees' old cleats bronzed. The annual fixture is named in honour of SMUS-grad Rees, who played in four World Cups for Canada, two as captain, and is the first rugby player inducted into Canada's Sports Hall of Fame.
It was the 21st Rees Boot game, with the series now tied 10-10-1 between the two schools that have produced numerous national team players for Canada.
But it didn't look to be going Oak Bay's way at the half. SMUS used its quick backfielders — several of them from the school's B.C. championship soccer and basketball teams — to find the edge and run wild in the opening half.
"They exposed us in the first half. We made a few adjustments at half-time and closed down their outside attack," said Oak Bay head coach Murray Allen.
Hutty Hutty Barbs!
CONGRATULATIONS TEAM CANADA AND CAROLINE CROSSLEY
Canada's Women's Maple Leafs are Hong Kong Sevens Invitational champions after a 24-12 win over Japan in the Cup Final.
After easing through Day One with three convincing wins, Canada was put to the test on Friday with all three matches relatively close.
Canada opened Day Two in the rain with a 31-7 win over China in the Cup Quarterfinals. The Cup Semifinals came down to the final play as Canada came away with a 17-12 win over Netherlands.
The Cup Final against Japan was played in Hong Kong Stadium, the venue for this weekend's HSBC Men's World Rugby Sevens event.
Hong Kong Sevens Invitational
Day One
Canada 31-7 Samoa
Canada 66-0 Mexico
Canada 42-0 Argentina
Day Two
Canada 24-7 China
Canada 17-12 Netherlands
Canada 24-12 Japan
Maple Leafs Roster for Hong Kong Sevens
Emily Belchos, (Markham Irish) Barrie, ON
Caroline Crossley – (Castaway Wanderers) Victoria, BC
Hannah Darling – (Peterborough Pagans) Warsaw, ON
Chanelle Edwards-Challenger – (Calgary Rams) Calgary, AB
Paige Farries – (Druid) Red Deer, AB
Magali Harvey, (Club de Rugby Quebec) Quebec City, QC
Sara Kaljuvee – (Toronto Scottish) Ajax, ON
Kayla Mack, (Wild Oats) Saskatoon, SK
Breanne Nicholas – (Kent Havoc) Blenheim, ON
Nadia Popov – Aurora Barbarians (Newmarket, ON)
Alex Tessier – (Montreal Barbarians) Saint-Clotilde-de-Horton, QC
Charity Williams – (Markham Irish) Toronto
  ISLAND CHAMPIONS!
For the 20th time in Oak Bay's illustrious basketball history, the Bays captured the prestigious Island Championship for senior boys basketball.  Coaches Chris Franklin and Robbie Parris were awarded the coaches shield, Liam Finnigan was recognized as a 2 team all star and Myka Tang-Blumschein and Matt Gray were first team all stars.  Atlas St. Paul Butler earned MVP honours with his dominate presence in the paint both offensive and defensively including two rim rattling dunks in the final.  Congratulations to coach Franklin, Parris and the entire senior boys for their accomplishment.  The boys now travel to the BC's over Spring Break where they will represent Vancouver Island as the #1 and possibly the #1 seed in the province. Good luck!
2015 LOWER ISLAND CHAMPIONS
Congratulations to the senior girls basketball team who defeated Claremont 78-41 to win the Lower Island Championship on Friday, Feb 13th at Oak Bay's new gym.  Lauren Yearwood led the way with 22 points and Leigha Russell showed some great 3 point range with a season and career high 21 points.  Morgan Roskelley added 10 points and 7 assists in a dominant performance at the point guard position.  The girls go into the Island Championships in Port Alberni as the #1 Lower Island seed.  Good luck to coach Rob Kinnear and the girls!
COQUITLAM — As is part of his routine as the head coach of the Canadian junior women's national basketball team, Rich Chambers is forever engaged in staying current with the latest trends and ideas as they relate to the development of the game worldwide.  So when the topic of Victoria native Lauren Yearwood was broached on Thursday, Chambers didn't hesitate to reference some of his most current readings.
"There was an article about a week ago about how the most important thing in recruiting athletes is basketball IQ," Chambers said. "It's so overlooked and under-rated. If you understand the game, understand angles, gapping and your positioning, you can outperform better athletes on a consistent basis."
Truly, there isn't a better way to begin describing one of the most essential elements of one of this province's most talented female players.  The 6-foot-3 Yearwood, starring in this her senior year of high school with the Oak Bay Breakers, is a shining light on the Canadian basketball scene, a cerebral difference-maker with a vast skill set and off-the-charts kudos for her team-first mentality.
"It's a big cliche, but she is once-in-a-lifetime," observed Rob Kinnear, her head coach at Oak Bay. "If I coach until I am an old man, guys or girls, I don't think I will get a total package like she is. She is gifted in the classroom and gifted on the court, but I think most importantly to the integrity of our program, she is a gifted teammate."
Beginning next season, the lucky ones will be the University of Oregon, after the recent news that Yearwood committed to joining the Ducks for a collegiate career in the Pac 12 Conference.
But between then and now, Yearwood will continue to build on her impressive resume, working hard to try and lead the Breakers to the B.C. Triple A title in March, before attending tryouts to try an earn a spot on the junior national team which Chambers will coach later this summer at the FIBA World Championships in Russia.
"It's been a big, busy year," Yearwood said during a break at last weekend's Top 10 Shoot-Out tournament in Coquitlam. "I have been trying to just soak it all up, and focus on one small thing in front of another."
Yearwood led Oak Bay to a second-place finish at last season's B.C. Triple A championships in March, then made the Canadian Under-17 Cadette team which finished sixth at world championships last July in the Czech Republic.
From there, the pace didn't slow. Yearwood was named to the Canadian junior national team as one of its youngest players, but suffered a concussion in preparation for the FIBA Americas tournament and had to pull out.
This March, the team will once again contend for the B.C. title, then Yearwood heads off to tryouts to once again try and make the national junior team roster. From there, it's straight to Oregon.
Yearwood says she is "excited for the next few steps" and can't wait for her collegiate career to begin at Oregon's scenic Eugene campus.
"I just fell in love with the school," she said, "with the team, the coaches, the whole atmosphere. Out of every school I visited, it was the most similar to Victoria. A smaller town, but still big enough. It was West Coast. It was beautiful."
And given all the globe-trotting she has in front of her, there has to be something comforting about finding a place that reminds her of home.
  Courting provincial recognition
Oak Bay High's Myka Tang-Blumenschein will play for the B.C. U17 team this season in hopes of garnering post-secondary attention and in preparation for his best possible senior year next year.
"He really reacts well to pressure," said coach Chris Franklin. "He's quite smart, he's quite steady. He doesn't make a lot of mistakes."
Tang-Blumenschein's work ethic played out as he made the climb into the provincial program, first missing the cut to try out for the U14 team. The year he was 15 he got to tryout, which was an experience in itself. Last year he made the U16 team where the team "ended up winning Western Canadians so it was a really great experience."
Earlier this month the Oak Bay High student earned a spot on the U17 team where he looks forward to playing against some of the top players in the country to improve his skills and plan ahead for his senior year at Oak Bay High.
"I want to improve my ball handing and explosiveness, and get better in everything," he said.
"He's obviously open to learning," said Franklin. "In both his actions and his words, he's probably one of our best leaders, especially for someone in Grade 11."
The U17 season features tournaments that culminate with a national competition; he remembers seeing university representatives at Western Canadians last year.
"To play post-secondary and get my education paid for is the goal," Tang-Blumenschein said. "So it's definitely good exposure playing on a provincial team."
Senior Volleyball Teams Sweep Island Titles 
In a highly anticipated rematch of Pool B-defining matchup, the No. 1 South seed and tournament host, Oak Bay Breakers, welcomed back the Belmont Bulldogs, who had swept the hosts 2-0 the day before.
The Breakers avenged the loss with a 3-1 victory (25-21, 25-27, 25-11, 25-18) in front of a healthy crowd in the new small gym at Oak Bay. Belmont rallied from 16-23 and 19-24 deficits to win the second set, but ran out of gas.
"We let the second one get away from us, but that's credit to Belmont. They're a great team and they're not about to let anything die on their side. Kudos to them," said Breakers' coach Scott Millington, whose team defeated Claremont 3-0 in the semifinals.
"We didn't have a great first day, but we came back amazingly. I'm pretty proud of them right now. We both get to go to provincials, which is a pretty nice thing.
Four straight Island Championships for Senior Boys Vball
Congratulations to the Sr. Boys Volleyball team on winning the Island Championships on Saturday. 4th in a row! MVP: Kyle Bourdon. All-stars: Nick Mickleberry, Cole Beevor-Potts. Outstanding performances in the final match from Madhu McConnell (12 kills on 18 attacks, no errors!), Alan Lau (12 digs), Johnny Fitterer (2.8/3.0 passing average)
  Provincial Champions – Girls Aquatics
The Oak Bay swim team was the number one team at Islands 2 weeks ago, as well as securing the trophies for: Most " A " + " B " Individual Points and Top " B " Team Individual Events. We also won Team Plaques in: Most Relay Points, and Most " B " Relay Points.
Oak Bay had another amazing show this weekend at BC's. The girls won the provincial banner, and the team came fourth overall.
Some highlights include: Our 'B' mixed medley team secured the gold medal and trophy. Our girls 'B' medley relay secured silver.
Sarah Bjelde won the silver medal for her breaststroke. Cody Tsatsanis won the silver medal in 50 backstroke and the bronze medal in 50 freestyle.  Allison Hampton had an amazing meet winning two silvers, and a gold in her events. A commanding last year for this grad and team captain.
Oak Bay Barbers defend Cup
The Oak Bay Barbers recaptured the Judy Bourne Cup, defeating the Reynolds Roadrunners 3-0 (25-23, 25-15, 25-19) in the final.  Earlier in the semi-finals, Reynolds defeated Parkland 3-0 (25-10, 25-17, 25-11), and Oak Bay defeated Lambrick Park 3-0 (25-9, 25-15, 25-11).  This is Oak Bay's seventh Judy Bourne Cup win in the past 9 years.
Back to back Island champs
The senior boys soccer won the recent 2014 Island Championships by defeating Reynolds Secondary 5-1.  Goals were scored by Adam Eardley, Charlie Miller, Brandon Molitwenik, Cole Christiaens and Hayden White. The Provincials will take place in Burnaby Nov 20-22nd with Oak Bay going is as back to back Island Champions and the #1 Vancouver Island seed.
Oak Bay wins Island rugby title
A "total team effort" notched a come-from-behind win for Oak Bay High at the junior rugby Island championship Friday in Mill Bay.
Oak Bay faced Shawnigan Lake school in the final game of the season to determine a champion.
"It was a very tight, well-played game by both teams," said Pete Atkinson, Oak Bay's head coach.
His boys were down 17-12 at half-time but scored three tries to come back victorious 27-17 when time wound out.
"We believed we were going to win, the boys did," said Atkinson. It was a perfect end to a near-perfect season for the team that lost only two games this year. "It was total team effort. It's a particularly skilled group of players."
Taylor keeps Oak Bay on track for gold
Speed, with plenty to spare, came out of the blocks Wednesday as the 2014 Island high school track and field championships opened at UVic's Centennial Stadium.
Nick Taylor of Oak Bay rose from his sick bed to qualify for today's finals in the boys' 200 and 400 metres as well as the 4×100 and 4×400.
"I was in bed for 20 hours straight with the flu before coming to the track … I had to race through it," said Taylor, who is coached by 1976 Montreal Olympian and former University of Oregon Ducks track star Dacre Bowen of Victoria.
Another Oak Bay runner coached by Bowen — who also coached 2008 Beijing Olympic gold-medallist and 2004 Athens Olympic silver-medallist decathlete Bryan Clay in high school in Hawaii — was winning at the Island high school meet a few years ago. Brendon Restall, seventh in the 400 metres at 2011 IAAF World Youth Championships, is now into his CIS career with the University of Victoria.
Oak Bay track and field team looks to 23rd consecutive Island title
Some great running, hurdling, throwing and jumping talent has come out of the Island high school track and field championships, the 2014 edition of which runs today and Thursday at UVic's Centennial Stadium.
The athletes competing follow in the spike steps of Olympians and Commonwealth Games and Pan Am Games performers such as Cliff Salmond, Bob Hutchison, Terry Tobacco, Bob McLaren, Murray Keating, Debbie Bowker, Dave Campbell, Harold Willers, Nathan Taylor and Mike Mason.
Most won't get that far, but some might.
The Grade 11 Oxland twins from Dover Bay, Thomas and Peter, are among those creating the most stir. Thomas Oxland represented Canada in the 800 metres at the 2013 IAAF World Youth Championships in Donetsk, Ukraine. Thomas and Peter Oxland led Dover Bay to the B.C. high school cross-country title last fall, along with another pair of Grade 11 twin brothers — Anthony and Chris Serban.  Read More
Taylor on track for gold
The high school track and field season is heading into the final turn and Nick Taylor of Oak Bay is picking up speed.  Taylor set a record in the senior bosy 200-metre race (22.16 seconds) at the Lower Island Track and Field Championships at Centennial Stadium and, in doing so, was named the most outstanding senior track athlete for the meet. Taylor also won gold in the 400m metres in a time of 49.51.   Oak Bay had two more award winners:  Gavin Kohut won the grade 10 boys most outstanding performance award after winning the junior boys 100-metre race in a time of 11.78 seconds while grade 9 Jack Stanley won his age group award for winning the bantam boys 3000m in a record time of 9:28.94.  Full results.
Tristan Alexander wins more Judo hardware
Victoria's Tristan Alexander is well on his way to the 2015 Canada Winter Games as he continues to dominate the national field in judo.
Alexander, an Oak Bay High student, won gold and silver medals at last weekend's Saskatchewan Open Judo Championships in Regina, the first of several Canada Games qualifiers.
The 15-year-old Alexander competed in the heavyweight division and won gold in the under-18 class and silver in the U-21 competition. Alexander won three of his bouts by Ippon (the highest point total a fighter can achieve in a bout) and one by hold down (pin).
The 2015 Canada Winter Games will be hosted by Prince George.    Read more.
Oak Bay Girls Soccer beat Reynolds 3-0 to qualify for Ryan Cup Final
The Oak Bay Breakers beat the Reynolds Roadrunners 3-0 in the Ryan Cup semi-final and faced the Stelly's Stingers in the final game.
The Stingers lived up to their reputation and earned the title, downing the Breakers 2-0 in the final.   Read More.
Stelly's, Oak Bay book tickets to Ryan Cup soccer final
The Stelly's Stingers have won two straight Ryan Cup heart-stoppering shootouts, and will now attempt to win it all in the Lower Island Senior Girls Soccer city championship final.
The Stingers squeaked by the defending cup champion Belmont Bulldogs 3-2 on penalty kicks, in an extremely hard-fought semifinal at the University of Victoria on Thursday. The teams ended regulation even at 1-1, then each scored a goal in extra time.
In the other semifinal, the Oak Bay Breakers took advantage when it counted and downed the Reynolds Roadrunners 3-0. The Breakers and Stingers will decide who gets their named etched on the Ryan Cup on Tuesday, in a 3:45 p.m. kickoff on the UVic turf.   Read full Times-Colonist Article
Oak Bay High girls rugby team on the run
Oak Bay High's Caroline Crossley checks for tacklers during a game against Spectrum Community School.
Girls rugby is in its second full season as an extra-curricular sport at Oak Bay.
Oak Bay High team shoots to eliminate tough opponent
No matter how well they play, this soccer team's biggest goal won't be met on the field.
Scoring $10,000 in donations tops the list for the Oak Bay High school's senior girls soccer team as they tackle the fight against breast cancer heading into a new season where their humanitarian efforts will outshine any glory they experienced on the pitch.
"We have a lot of kids that realized early on, their roles are a lot more than just being a student, especially because they realize how lucky they are to be living where they are living," said head coach Brent Garraway. "It is a big thing to get involved with different issues, the girls decided this year to step up and do something more than just play."    Read full Oak Bay News story.
SMUS takes back the Boot
He watched the Gareth Rees Boot, named in honour of the St. Michaels University School grad and four-time World Cup great for Canada, being presented to Oak Bay on SMUS's home pitch.
Turnabout proved fair play Wednesday as Reid, the SMUS captain, accepted the Rees Boot on Oak Bay's home turf following the Blue Jags' 10-5 victory over the Barbs before a large and boisterous gallery which ringed the field.
"[The 38-17 Oak Bay victory in 2012] was motivation for this year," said a beaming Reid.
"This feels absolutely amazing," added the darting No. 9, whose brother Alex Reid was the Blue Jags' centre the last time SMUS won the B.C. championship in 2007.
"Both teams played hard and turned in great defensive efforts."
Oak Bay Grads Butler, Stewart and Leahy nominated for Vikes Athletic Awards
Elise Butler (Grad '13) won the Wallace Shield as the top UVic Vikes female rookie athlete.  Playing as both a wide midfielder and a fullback, Butler made an instant impact with the Vikes with her speed and endurance. Playing in all but one Canada West game that she missed due to injury, Butler was instrumental in the Vikes earning the conference league title.
"Elise definitely leads by example," coach Tracy David said. "She is very consistent regardless of the position that she plays. She is fit, fast and makes good decisions under pressure."  Butler was one of six Vikes players to play in every minute of their three post-season playoff games.
Crosby Stewart (Grad '12)  was nominated for the top male rookie award after a stellar rookie season for the Vikes rugby team but lost out to swimmer Jon McKay.  Kathleen Leahy (Grad '11) won the women's field hockey Team Award and was a finalist for both the Chancellor Cup and the Top Female Athlete of the Year.
Oak Bay basketball star Yearwood to play for B.C. against Japanese team 
Fresh off a week-long national cadet and junior training camp in Edmonton, Lauren Yearwood will have little time to put her feet up.
The Grade 11 student at Oak Bay Secondary will be part of a B.C. Selects basketball team — formed by former national team coach Allison McNeil — which will face the touring Japanese under-18 squad in three international exhibition games on the Mainland.
Yearwood, who turns 17 in under two weeks time, was named to the club which opens play tonight at the Langley Events Centre. Game 2 will go at the same location on Thursday before it moves to War Memorial Gym at UBC on Saturday. All games start at 7 p.m.
"I'm excited for these games," Yearwood said of the opportunity. "Last year I got a chance to play in the FIBA Americas [tournament] against teams from South America and the U.S., but this will be my first chance to play against a team from overseas.    Read More.   Oak Bay News article.
Oak Bay Track and Field team competes at the Province Gran Forza.  
The 4th Annual Province Gran Forza V presented by Telus was held at the Richmond Olympic Oval Saturday before a packed house of  fans urging on the 59 school teams fighting for honours in the 4 divisions.  Five meet records fell in the indoor team pentathlon.  Ben Ingvaldson of Lord Tweedsmuir and Olivia Moriconi of Pitt Meadows set records in the senior shot put while Camryn Rogers of McMath repeated this record in the juvenile women's division.  Alfred Dela Cruz of Vancouver College not only set the record in the juvenile 50m but lead his team to the record in the 4x200m relay.   Read More.
Parity name of the game in high school girls Lower Island soccer
When it comes to the Lower Island Senior Girls triple-A soccer season this year, nobody is making any predictions. It's expected to be just that close when the whistle sounds for the beginning of the regular season today.
The battle for supremacy starts immediately, too, when the highly regarded Oak Bay Breakers and Belmont Bulldogs tangle on the first day of action at 3:30 p.m. on the Hampton turf.
"It might be the most even league we've had in years," said Oak Bay coach Brent Garraway, whose Breakers were provincial silver medalists last year, losing the B.C. final 1-0 to the Argyle Pipers. "Belmont, Claremont, Stelly's — they all have exceptional players.
"The level is outstanding."   Read More
Breakers win BC AAA Basketball silver medal
Congratulations to coach Mr. Rob Kinnear and the Oak Bay Breakers basketball team on their silver medal performance at the BC High School AAA Girls Basketball Championships.  The team won a nail-biting one point thriller over defending BC AA champions Holy Cross in the tournament semi-final before losing to Brookswood of Langley in the tournament final.   Read more.   Times Colonist Article
The Province's Sweet 16: Our ranking of B.C.'s top senior varsity girls basketball players
Oak Bay Basketball teams win Lower Island Championships
Both Senior Girls Breakers and the Junior Boys Barons basketball teams won their respective Lower Island Championships last week.  The Breakers defeated Claremont 59-22 while the Barons scored a lopsided win over
Lambrick Park.  Up next for the Breakers is the Island Championship tournament to be held at Claremont Feb 20 – 22nd.  The Barons will host the Junior Boys Island tournament on the same dates.
The Junior Girls Breakers finished second in the Lower Island playoffs and head to Saltspring Island this coming weekend for the Island Tournament hosted by Gulf Island Secondary School.  The Senior boys Bays head into their Lower Island playoffs this week.
Liam Kennell commits to Southern Utah
Liam Kennell of Victoria, BC verbally committed to attend and compete for NCAA division 1 Southern Utah University.
Oak Bay Grads lead Canada to Rugby 7s Bronze
The Langford-based Canadian sevens rugby team arrived back at Victoria International Airport on Monday with more than the usual fanfare.
Then again, it isn't often the Canadian players find themselves on the podium with South Africa and New Zealand at a major tournament. They did Sunday at the USA Sevens in Las Vegas by capturing the bronze for Canada's first medal at an IRB men's sevens tournament.
"This is huge … we turned some heads and got the rugby world to take notice of us," said star player Phil Mack of Victoria.  Read more.
January athletes of the month
Senior Boy – Timo Weimer
Timo has been one of the most consistent and hardest working members of the senior Bays basketball team all season.  An off season of working with Ken Shields has paid off for the big center where he is consistently averaging a double double each game.  With the injury to star point guard Matty Gray, Timo has been asked to step up his leadership and scoring and has delivered for the Bays.
Senior Girl – Danielle Calvelti
She has made great contributions to the senior girls bball team.  She combines fantastic natural talent with incredible work ethic.  She has developed into a top post player on the Island and a valuable member of the #5 AAA ranked team in BC.
Junior Girl – Holly Mckenna
Holly has been one of the best defensive players all season, averaging close to 4 blocks a game.  Her positive energy and leadership have been extremely helpful to her teammates and coaches.
Junior Boy – Ben Watts Woolridge 
Ben is a very hardworking, unselfish player. This is his first season with the Bays and he has proved that he can compete with some of the top players throughout the province. This past month Ben has worked his way into the junior Bays' starting lineup and has continued to be a large contributor to the Bays' success so far this season.
Bornemann nominated as finalist for Sport BC Male Athlete of the Year.  Read more.
Island Sports News 
See this link for Oak Bay Athletics highlights
Playing Multiple Sports Beneficial For Development
In the wake of Canada's loss to Russia in the bronze medal game of the World Junior Hockey Championship, there have been plenty of comments made about the state of hockey player development in Canada.  Brent Sutter, head coach of the Canadian team, believes that there is a skill deficit in Canada.  Read more.
Breakers Basketball Update
Earlier in the season, the Breakers, ranked third in BC, played Brookswood from Langley, ranked first, and lost a close game by 3 points. However, the two teams met again in the finals of the Victoria Christmas Tournament. This time, the Breakers sufferd a big loss and now see how much hard work and focus it will take to play and to continue to be ranked with BC's top teams. As school starts up again following the Christmas break, the Sr. Girls are back in the gym practicing. The Breakers have no game this week with a bye in their schedule. For a team facing several injuries, the bye comes at a perfect time. Guard Morgan Roskelley, has been out with a rolled ankle which occurred before the break at the WJ Mouat tournament in Abbotsford.  After being on crutches, she is well on her way to a complete recovery and is expected to play next weekend in the Top 10 Tournament on the lower mainland. However, recently injured Andrea Psotka, is in a walking cast and is facing up to a 7 week recovery period. Chloe Campbell is also dealing with a torn Teres Major. Although injuries are impacting the Breakers, they are thankful they are occurring now, hoping that when the Island and BC playoffs  roll around in March  everyone is healthy. Head coach, Rob Kinnear, has been telling the team of late,  " You'll thank yourself in March if you put in the work now."
by Chloe Campbell
The Gary Taylor Basketball Classic will be held in both the east and west gyms with quarterfinal play beginning on Thursday, December 19th.  Host Oak Bay Bays will face #2 AA ranked Lambrick Park Lions in the opening game of the tournament at 2:15 in the east gym.  The final in the senior boys tournament will be played at 6pm on Saturday, December 21st  and will be simulcast live on SportsCanadaTV.  The senior boys tournament features host Oak Bay, Lambrick Park, #1 ranked AA school SMUS, Cowichan, Vancouver College, MEI, Mt Douglas and Fleetwood Park.  The junior boys draw includes Oak Bay, Cowichan, Belmont, Vancouver College, Mt Douglas, SMUS, Lambrick Park and Fleetwood Park.  Visit the Oak Bay Basketball website for the full tournament draw and the online version of the tournament program.
The senior boys soccer team has had an extremely successful fall season winning the Island Championship and finishing third at the AAA provincial championship tournament.  Oak  Bay beat cross town rival Reynolds 1-0 in the Island final.  Both teams qualified for the BC tournament held in Burnaby.  Oak Bay went through round robin play undefeated, defeating Prince George, Tamanawis and Lord Byng, setting up a semi-final match with pre-tournament favorite Sutherland of North Vancouver.   After a tough loss to Sutherland, the team rebounded with a gutsy overtime 2-1 win in a rematch against Reynolds to capture third place.   With the bronze medals hanging proudly around their necks, the team was able to celebrate a terrific season with dear friends, coaches and family.  Grade 10 standout Charlie Miller led the team in goals with 5 and Jack Longo had 4, while grade 12 stalwart defender Owen Sieffert was named to the tournament all-star team.
On November 16th the senior boys' volleyball team defeated Belmont in the finals of the AAA Island championship (26-24, 26-24, 25-22). Grade 11 Kyle Bourdon was named MVP of the tournament and first team all stars included grade twelves Noah Harris and Kieran Atkinson. Johnny Fitterer earned best libero all star. The Barbers were in Kelowna November 27th-30th for the BC championships. The competition was stiff, losing to the eventual winners (Earl Marriott) in the quarter finals. The boys went into the tournament ranked #6 and they finished #6. Head coach Allan Carmichael felt that sixth place was an excellent achievement given that the team started only two grade 12s and started two grade 10s. He noted that this team was similar in ages to the team that came 7th in 2010 and then returned to win back to back BCs. Kyle Bourdon was named to the second all-star team and Johnny Fitterer earned most outstanding libero. Most improved player for this season was team captain Kieran Atkinson. "He led by example, with maximum effort on every point, playing in the most physically-demanding position. He was our emotional rock upon which we could depend, always". The team had some impressive stats for the season, including leading attacker Michael Connacher (327 kills and 375 points), Alan Lau (44 aces), Noah Harris (107 blocks) and Johnny Fitterer (457 digs).

by Kinna Turner